Today is the 11th day of Advent.
light the 11th candle.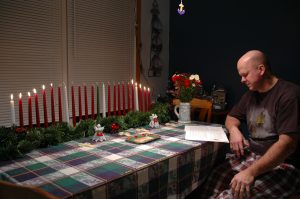 On the 9th Day of Advent, I thought about the scepter, and how it being extended out to the servant was the code for entering into the King's Presence. This is similar to a code to enter in for security.
On the 8th Day of Advent, I was thinking about the Kingship of the Father God. He owns the 'house', and He gets to say who comes in and who does not.
Today, it's the key.
There are so many ways to focus upon the word "key".
A noun – the keys of David.

Revelation 3:7 "To the angel of the church in Philadelphia write:
These are the words of him who is holy and true, who holds the key of David. What he opens no one can shut, and what he shuts no one can open.
The keys of death and hades.
Revelation 1:18 – I am the Living One; I was dead, and now look, I am alive for ever and ever! And I hold the keys of death and Hades.
As an Adjective, Analogy, Symbolism in concept – Jesus is the key to Eternal Life:
John 17:3 Now this is eternal life: that they know you, the only true God, and Jesus Christ, whom you have sent.
A key opens up something.
Usually, it's because someone wants inside!
As I said on the 8th, for our security system, we have a code, but you still need a key to enter in.
There are keys to blessings – treasures – such as in Malachi 3:10:

Bring ye all the tithes into the storehouse, that there may be meat in mine house, and prove me now herewith, saith the LORD of hosts, if I will not open you the windows of heaven, and pour you out a blessing, that there shall not be room enough to receive it.
Deuteronomy 11:13
And it shall come to pass, if ye shall hearken diligently unto my commandments which I command you this day, to love the LORD your God, and to serve him with all your heart and with all your soul,(and then follows many blessings, also listed in Deuteronomy 28)
Matthew 13:44

"The kingdom of heaven is like treasure hidden in a field. When a man found it, he hid it again, and then in his joy went and sold all he had and bought that field.
Often, I get told "that is old testament, it isn't appropriate now! We are under Grace!"
We are under grace because humans could not keep the laws! But that does not mean the laws are not good! Who would eliminate the Ten Commandments? Most faith's have some form of code of behavior. What does the Christian Bible say? What does the Christian Lord Jesus say?
John 14:15

"If you love me, keep my commands.
And, the dear Apostle John wrote that it is KEY to the proof of the love of God!
1 John 5:3-4
3 In fact, this is love for God: to keep his commands. And his commands are not burdensome, 4 for everyone born of God overcomes the world. This is the victory that has overcome the world, even our faith.
But, in a noun sense, Jesus' death, burial, resurrection are the KEY to enter into the Kingdom.
The Website GodVine.com has a list of scriptures that explain the concept of entering into the Kingdom of Heaven, also known as Salvation.
2 Timothy 1:9-10
9 He has saved us and called us to a holy life—not because of anything we have done but because of his own purpose and grace. This grace was given us in Christ Jesus before the beginning of time, 10 but it has now been revealed through the appearing of our Savior, Christ Jesus, who has destroyed death and has brought life and immortality to light through the gospel.
John 3:23

And this is his command: to believe in the name of his Son, Jesus Christ, and to love one another as he commanded us.
But there is one other key mentioned – the Key of David, as in RULER.
Isaiah 22:22

I will place on his shoulder the key to the house of David; what he opens no one can shut, and what he shuts no one can open. (also Revelation 3:7)
JESUS OPENS THE DOOR! or shuts the door. Because he has the KEY to the ruling house of Israel! Jesus is the reigning King!
By applying the keys to salvation, He opens the door, and welcomes us in.
Luke 11:9
"So I say to you: Ask and it will be given to you; seek and you will find; knock and the door will be opened to you.(also Revelation 3:20)
My heart soars to think that my King and Savior has provided me the key to enter in to the Holy of Holies, to be able to come boldly before the throne of the Most High God!
He died for me so that I could be free of the price of my sins!
The Father rose him from the dead to break the bands of death!
Jesus sits on the right hand of the Father interceding for me!
Oh what Joy fills my heart! I have goosebumps, and heart shivers thinking of how much God Loves me – and knowing that my comprehension of His all encompassing love if so small because of my finite mind.
Today, I celebrate Jesus as the key, code, and deliverer of my salvation.
And I confess that Jesus is my Lord, and I will follow Him!
Today's hymn is the fourth verse ofO Come, O Come Emmanuel, talking about the Key of David.
Enjoy this version by Pentatonix:

More Advent Devotions
Thanks for joining me in this journey,
In His hands and under His wings,
~Christi
Ps 63:7 Because you are my help, I sing in the shadow of your wings.
"The Lord does not give me rules, but He makes His standard very clear.
If my relationship to Him is that of love, I will do what He says without hesitation.
If I hesitate, it is because I love someone I have placed in competition with Him, namely, myself." – from My Utmost for His highest
I'd love to hear what you think – please leave a comment!
Or choose to LIKE me on facebook, or other social media!
I'd love to stay in touch with you – we are working on email subscriptions…sign up!
Soon, we will have a gallery for the art I have created by the hand of God.
There are many organizations that support children and families. Here is one that we are blessed to be a part of. Please consider sponsoring a child – the life you change could be your own.
I want to thank
for the ability to search the Bible online.
Thanks to these blogs and pages for my research:
Beyond Today
GodVine
Please follow and like us: