Today is Advent day 12.
If using an event log, light candles 12.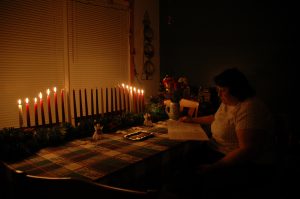 Jesus came as a baby and was laying in a manger. A manger is a feeding trough for farm animals. The fact that Jesus came and was so meek and mild caused much difficulty for the rulers of the Church of his day. First, Jesus came as a lamb.
Lamb
The stories in the Old Testament about sacrifices force us to talk about the meaning of blood sacrifice. That sacrifice needed to be a perfect, no scars, no warts, no wrinkles, but perfect ram or lamb. In the New Testament we are told about Jesus going to the cross as a lamb going to sacrifice. This is one of the key differences in the Christian faith, that we have a Savior that chose to pay the price for our sins.
John 1:29
The next day John seeth Jesus coming unto him, and saith, Behold the Lamb of God, which taketh away the sin of the world.
1 Cor 15:20-22
For since by man came death, by man came also the resurrection of the dead.
For as in Adam all die, even so in Christ shall all be made alive.
(Gen 22:8; Ex 12:5; Is 53:4-7; 1 Pet 1:18-21)
Rev 5:12
Saying with a loud voice, Worthy is the Lamb that was slain to receive power, and riches, and wisdom, and strength, and honour, and glory, and blessing.
Lion
The other part of this is Jesus as the lion, the ruler that roars and protects and fights. This is what the people of Jesus's day expected the Messiah to be. They did not understand that first the Messiah had to pay the price for sin and death, be resurrected and given back all the glory he put aside in order to be a baby human, and then he shall come again to judge the quick and the dead. At that time the lamb has become the lion and will make all things right.
Rev 5:5;
And one of the elders saith unto me, Weep not: behold, the Lion of the tribe of Juda, the Root of David, hath prevailed to open the book, and to loose the seven seals thereof.
Num 24:9
He couched, he lay down as a lion, and as a great lion: who shall stir him up? Blessed is he that blesseth thee, and cursed is he that curseth thee.
(Hos 11:10; Hos 13:7-8)
Revelations 17:14 – the Lamb goes to war(the Lion)
These shall make war with the Lamb, and the Lamb shall overcome them: for he is Lord of lords, and King of kings: and they that are with him are called, and chosen, and faithful.
The other key is that our savior has risen from the dead, and sits at the right hand of God, to intercede for the brethren…and, then, He will come again.
This is worthy of worship!
More Advent Devotions
Thanks for joining me in this journey,
In His hands and under His wings,
~Christi
Ps 63:7 Because you are my help, I sing in the shadow of your wings.
I want to thank
for the ability to search the Bible online.
"The Lord does not give me rules, but He makes His standard very clear.
If my relationship to Him is that of love, I will do what He says without hesitation.
If I hesitate, it is because I love someone I have placed in competition with Him, namely, myself." – from My Utmost for His highest
I'd love to hear what you think – please leave a comment!
Or choose to LIKE me on facebook, or other social media!
I'd love to stay in touch with you – we are working on email subscriptions…sign up!
Soon, we will have a gallery for the art I have created by the hand of God.
There are many organizations that support children and families. Here is one that we are blessed to be a part of. Please consider sponsoring a child – the life you change could be your own.
Please follow and like us: