Advent day 2 (Monday following 1st Sunday of Advent)
Advent is the session of waiting.
Everyone has a Christmas countdown,(here's a very cute one from Redbird)
But for me, ours is the end of the year countdown with reminders of the past year, looking forward to the next year and remembering how Christ has helped me through the year.
In church history, advent is about waiting for the light in the darkness…Jesus Christ is that light.
We have done an advent log that had up to 28 candles,
and we lit one candle an evening. It was always fun when we could read by the light of the candles. But in the beginning, it was dark.
The lights on the tree, I prefer pure white, remind me out that light that comes into my life in my darkest moments, and gave me hope. That light is Jesus, the light of the world.
John 8:12 12 When Jesus spoke again to the people, he said, "I am the light of the world. Whoever follows me will never walk in darkness, but will have the light of life."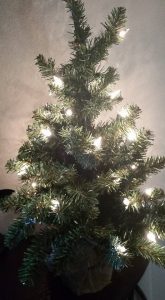 This year started out very dark, suicide last Christmas, marriage in crisis, Jim's cancer, and my pain issues. But one thing brought us through those dark times, the light of Christ that shines in the darkness and gives us hope.
Day two is the day to turn on the lights, and light candle #2. It's amazing how much more light 2 candles are than one. There's a sermon right there!
To remember about the Light – we have candle ornaments – because, we need to remember that We also are lights –
Matt 5:14 14 Ye are the light of the world. A city that is set on an hill cannot be hid.
15 Neither do men light a candle, and put it under a bushel, but on a candlestick; and it giveth light unto all that are in the house.
16 Let your light so shine before men, that they may see your good works, and glorify your Father which is in heaven.
Lord Jesus, please help me to remember that your light is available in any darkness I face. Father God, You have delivered me out of the kingdom of Darkness into the kingdom of your dear Son. I have only to open my eyes to see your light.
Lord, help me to remember that I am a light – that the light of your love can shine through me if I choose to let it. Help me to not get so bowed over by the darkness that tries to destroy me that I forget there are others in darkness that need to see a light of hope.
Thank you, for your light in my life. and help me to share This little light of mine –

More Advent Devotions
Thanks for joining me in this journey,
In His hands and under His wings,
~Christi
Ps 63:7 Because you are my help, I sing in the shadow of your wings.
I want to thank
for the ability to search the Bible online.
"The Lord does not give me rules, but He makes His standard very clear.
If my relationship to Him is that of love, I will do what He says without hesitation.
If I hesitate, it is because I love someone I have placed in competition with Him, namely, myself." – from My Utmost for His highest
I'd love to hear what you think – please leave a comment!
Or choose to LIKE me on facebook, or other social media!
I'd love to stay in touch with you – we are working on email subscriptions…sign up! 
Soon, we will have a gallery for the art I have created by the hand of God.
There are many organizations that support children and families. Here is one that we are blessed to be a part of. Please consider sponsoring a child – the life you change could be your own.
Please follow and like us: