Advent day 3 (Tuesday following 1st Sunday in Advent)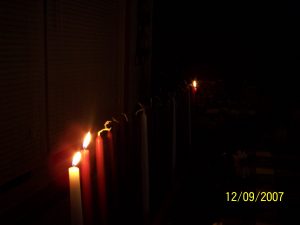 What are we?
This is the day we celebrate family.
I believe that family is the earthly example of the Godhead – and also the perfect example of how we are NOT God.
The Father God – loves us, cares for us, protects us – as our earthly fathers should. There is much more about this, but, we don't usually focus so much on the Father part.
The Holy Spirit – comforter, teacher, guide – this is the mother role, as she should be.
Jesus – the Son – symbolizing, obviously the offspring, glorifying his parents as he fulfills his destiny.
We are made in the likeness of God!
Gen 5:1 This is the book of the generations of Adam. In the day that God created man, in the likeness of God made he him;
Gen 5:2 Male and female created he them; and blessed them, and called their name Adam, in the day when they were created.
We are supposed to live up to our potential as Loving, Godly people. Of course, we, don't, and that takes forgiveness as well.
God created the family in Genesis 2:18 And the LORD God said, It is not good that the man should be alone; I will make him an help meet for him
Adam and Eve messed up in their roles in the garden – but God the Father had a plan for forgiveness of sin.
Then, after they messed up, God reports the birth of sons…Cain and Abel.
The story of Cain and Abel is a sad one – of family relations gone wrong. But, even in this story, God gives hope.
The whole Old Testament is about families and family matters. Always, someone messes up, and someone needs forgiveness.
Christmas celebrates the Holy family, Mary, Joseph and Jesus. This family didn't just "poof" everything is perfect! Mary, a virgin, found with child was going to be stoned for her indiscretion. Joseph, through divine conversation – chose to not divorce, but to stay with her. From that point on – difficulties, danger, and death. A basically normal family.
This is the day we pull out the family photo ornaments – to thank God for the gift of family.
Obviously, ornaments of the Holy Family!
We made the new ornaments(or, I did, with the kids' help) for that year.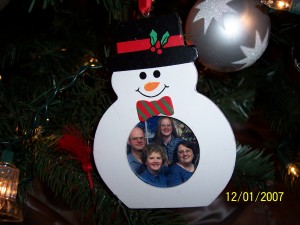 This is also the day we celebrated the individuality of the children, and they hung their personal ornaments. Each child had a color and an animal to signify their uniqueness. We had wood ducks, rabbits, bears, kittens and bunnies (these are not easy to find all the time!). We had Green, Yellow, Blue, Red and Purple ornaments. These were hung around the tree at the appropriate height per the child's height.
A cute ornament that our daughter, Faith Gibson, created this year was hands on an ornament from Barbie Bieber and Beyond.
This year, I am focusing on my uniqueness, and Jim's uniqueness.
Ps 139:15 I will praise thee; for I am fearfully and wonderfully made: marvellous are thy works; and that my soul knoweth right well.
I think I will make a photo ornament of something joyful that occurred this year in our life. and, I think I need to go back in the past few years and create ornaments for those years, as well.
Father God, thank you for having a plan from the beginning of time – for our lives, and for your purposes.
Lord Jesus, thank you for coming to deliver us from our sins, and reunite us with our Father.
Help me to remember daily, the graces and mercies that are bestowed upon me through your presence in my life.
More Advent Devotions
Thanks for joining me in this journey,
In His hands and under His wings,
~Christi
Ps 63:7 Because you are my help, I sing in the shadow of your wings.
I want to thank
for the ability to search the Bible online.
"The Lord does not give me rules, but He makes His standard very clear.
If my relationship to Him is that of love, I will do what He says without hesitation.
If I hesitate, it is because I love someone I have placed in competition with Him, namely, myself." – from My Utmost for His highest
I'd love to hear what you think – please leave a comment!
Or choose to LIKE me on facebook, or other social media!
I'd love to stay in touch with you – we are working on email subscriptions…sign up!
Soon, we will have a gallery for the art I have created by the hand of God.
There are many organizations that support children and families. Here is one that we are blessed to be a part of. Please consider sponsoring a child – the life you change could be your own.
Please follow and like us: