Christmas Season lasts until January 6 for the liturgical church.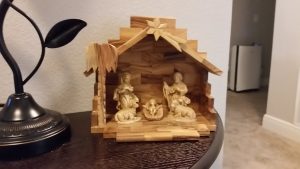 This song is one that I love – and I would sing as a lullaby to my children.
Again, thanks to the website Christmas Carol Lyrics, I can provide a little bit of history, as well as the lyrics!
The manger is a crucial part of the Christmas Story!
Away in a manger, no crib for a bed,
The little Lord Jesus laid down his sweet head.

The stars in the sky looked down where he lay,
The little Lord Jesus asleep in the hay.
This really points out the beauty of the humility of God coming down to earth in the form of a baby. He left his throne to rest in a manger.
The cattle are lowing, the baby awakes,
But little Lord Jesus no crying he makes.

I love Thee, Lord Jesus, look down from the sky
And stay by my cradle til morning is nigh.
This speaks that Jesus was different…fully man, and fully God.
He deserves us to declare that HE IS LORD!
Be near me, Lord Jesus, I ask Thee to stay
Close by me forever, and love me, I pray.

Bless all the dear children in thy tender care,
And take us to heaven, to live with Thee there.
Forever…forever. The simplicity of this carol ranks up with Jesus Loves Me, in my mind!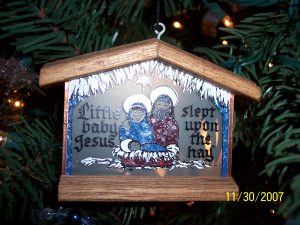 Here is one of my favorite versions!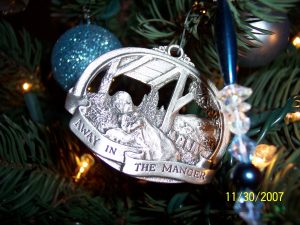 Thanks for joining me in this journey,
In His hands and under His wings,
~Christi
Ps 63:7 Because you are my help, I sing in the shadow of your wings.
"The Lord does not give me rules, but He makes His standard very clear.
If my relationship to Him is that of love, I will do what He says without hesitation.
If I hesitate, it is because I love someone I have placed in competition with Him, namely, myself." – from My Utmost for His highest
I want to thank
for the ability to search the Bible online.
I'd love to hear what you think – please leave a comment!
Or choose to LIKE me on facebook, or other social media!
I'd love to stay in touch with you – we are working on email subscriptions…sign up!
Soon, we will have a gallery for the art I have created by the hand of God.
There are many organizations that support children and families. Here is one that we are blessed to be a part of. Please consider sponsoring a child – the life you change could be your own.
Please follow and like us: