My thoughts for the Itty Bitty Bible Study group on Facebook. (join if you'd like to get these in fb!)
In my studying for these readings, I have found a very useful on line tool for study. While I miss sitting with my Strongs concordance, and my Bakers Bible Atlas, and my other various Bible study reference materials – being able to link to them in my blogs is priceless!
Thank you to Bible Study Tools for making these available!
Matthew Henry's commentary on Ephesians
Scofield Reference Notes on Ephesians.
I like this quote from Scofield:
THEME: The doctrine of the Epistle confirms this view. It contains the highest church truth, but has nothing about church order. The church here is the true church, "His body," not the local church, as in Philippians, Corinthians, etc. Essentially, three lines of truth make up this Epistle:
the believer's exalted position through grace;
the truth concerning the body of Christ;
and a walk in accordance with that position.
Acts 19 talks of Paul's visit to Ephesus.
Ephesians 1 (KJV)
1 Paul, an apostle of Jesus Christ by the will of God, to the saints which are at Ephesus, and to the faithful in Christ Jesus:
2 Grace be to you, and peace, from God our Father, and from the Lord Jesus Christ.
Amplified
1 Paul,
an apostle (special messenger, personally chosen representative) of Christ Jesus (the Messiah, the Anointed),
by the will of God [that is, by His purpose and choice],
To the saints (God's people)
who are at Ephesus
and are faithful
and loyal
and steadfast in Christ Jesus:
2 Grace to you
and peace [inner calm and spiritual well-being] from God our Father and the Lord Jesus Christ.
Here is more from Scofield:
DATE: Ephesians was written from Rome in A.D. 64. It is the first in order of the Prison Epistles. Acts 20:1-27:44 . (See Scofield "Acts 28:30") and was sent by Tychicus, concurrently with Colossians and Philemon. It is probable that the two greater letters had their occasion in the return of Onesimus to Philemon. Ephesians is the most impersonal of Paul's letters. Indeed the words, "to the Ephesians," are not in the best manuscripts. Colossians 4:16 mentions an epistle to the Laodiceans. It has been conjectured that the letter known to us as Ephesians is really the Laodicean letter. Probably it was sent to Ephesus and Laodicea without being addressed to any church. The letter would then be "to the saints and the faithful in Christ Jesus" anywhere.
I have often had difficulty wondering if the letters written to those people were actually applicable to me.
2 Timothy 3:16-17
16 All Scripture is breathed out by God and profitable for teaching, for reproof, for correction, and for training in righteousness, 17 that the man of God may be complete, equipped for every good work.
Romans 15:4
4 For everything that was written in the past was written for our instruction, so that through endurance and the encouragement of the Scriptures, we might have hope.
I sort of understand the cannonization of the Bible books…
If my reader struggles with this – Focus on the Family discusses how we got the Bible.
The Gospel Project explains it well.
Answers in Genesis goes a bit further and talks about how we got the Bible in English.
I share all of this, because in my life, I have had difficulty accepting that God chose me.
There is much in my history that indicates that in my family, I was not chosen for good things.
So, when Paul begins the epistle to the Ephesians – I often have to go through this exercise to remind myself that God made sure that the Bible was preserved so that I would hear it read every Sunday from the Episcopal pulpit, that I would hear the Bible every summer in the Methodist VBS, that I would respect the Bible when, in 1969, I attended a Pentecostal church and it was explained that each person needs to make a personal choice to ask Jesus in.
Because of that Bible, an evangelist from a Methodist church thousands of miles from my home would tell me to start reading the gospels. It was in a Baptist church I attended because of a boyfriend that I learned that I should KNOW my bible(Bible sword drills). It was in a faith church that I learned theology.
It is the Word of God that is hidden in my heart so that I will not sin against God.
It is the Word of God that saves me – as in – Jesus is the Word of God.
I like Scofield stating that this may have just been written to all the Christians…and of course, there is that verse that comes from Peter:
Acts 2:38-39
38 Peter replied, "Repent and be baptized, every one of you, in the name of Jesus Christ for the forgiveness of your sins, and you will receive the gift of the Holy Spirit.
39 This promise belongs to you and to your children and to all who are far off, to all whom the Lord our God will call to Himself."
Grace to YOU,
and PEACE
from God our Father, and the Lord Jesus Christ!
Grace to ME!
and PEACE!
So, for tomorrow – we will read Ephesians 1 – and see how far we get!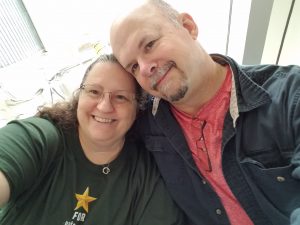 Thanks for joining me in this journey,
In His hands and under His wings,
~Christi
Ps 63:7 Because you are my help, I sing in the shadow of your wings.
"The Lord does not give me rules, but He makes His standard very clear.
If my relationship to Him is that of love, I will do what He says without hesitation.
If I hesitate, it is because I love someone I have placed in competition with Him, namely, myself." – from My Utmost for His highest
I want to thank
for the ability to search the Bible online.
Some artwork is from me – ChristArtist. It is copyrighted – by me. Please do not share it without my permission.
The same goes for my written work.
Some artwork is from ChristArt – not me! I have purchased a membership, and the art is copyrighted by them.
I'd love to hear what you think – please leave a comment!
Or choose to LIKE me on facebook, or other social media!
I'd love to stay in touch with you – we are working on email subscriptions…sign up!
Soon, we will have a gallery for the art I have created by the hand of God.
There are many organizations that support children and families. Here is one that we are blessed to be a part of. Please consider sponsoring a child – the life you change could be your own.
Please follow and like us: