We have been going down to the Fort Lauderdale area…and this time, we went to a Residence Inn on the beach, and I was able to take some photos of this lighthouse.
This is technically Hillsboro Inlet Lighthouse.
I really like the uniqueness of this lighthouse.
I have sort of an obsession with lighthouses!
I love songs such as
The Lighthouse
The Anchor Holds
This last one, I have sung…it's like an anthem to my life in Christ!
We created a set of walls for our hallway with photos of lighthouses….
and there was an area that was in need of a lighthouse…and I decided to paint one to go into that position!
I needed some extra resources to get up close to the lighthouse:

And then – I set up to paint!
I'm not going to bore you with what and how…but obviously I started with the sky, and water, and went from there.
Over a few days, I added rocks, greenery, and, the light house.
Here's the lighthouse, mostly finished: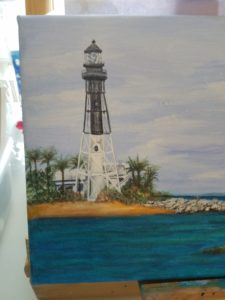 Here's the almost completed painting: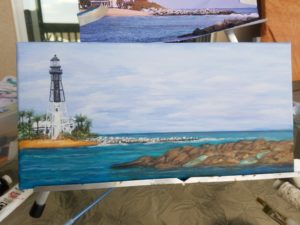 At this point, I was trying to figure out how to add life into this…water crashing…birds making bird noises…and to make the palm trees feel like they were blowing in the wind.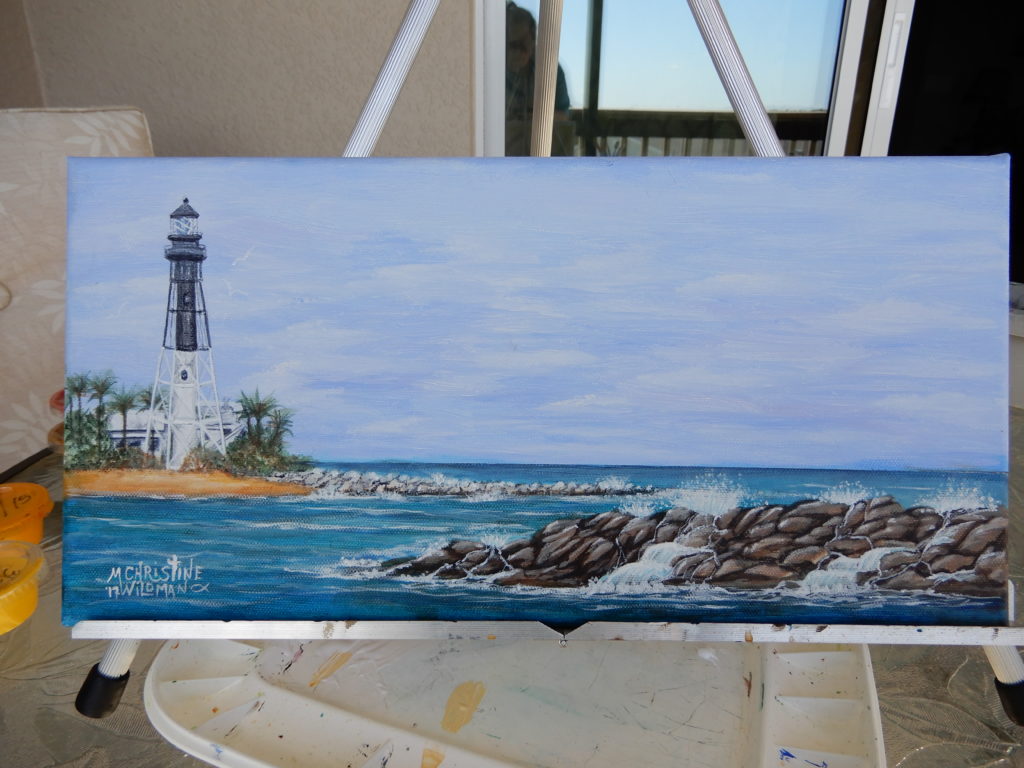 And here is the framed finished piece.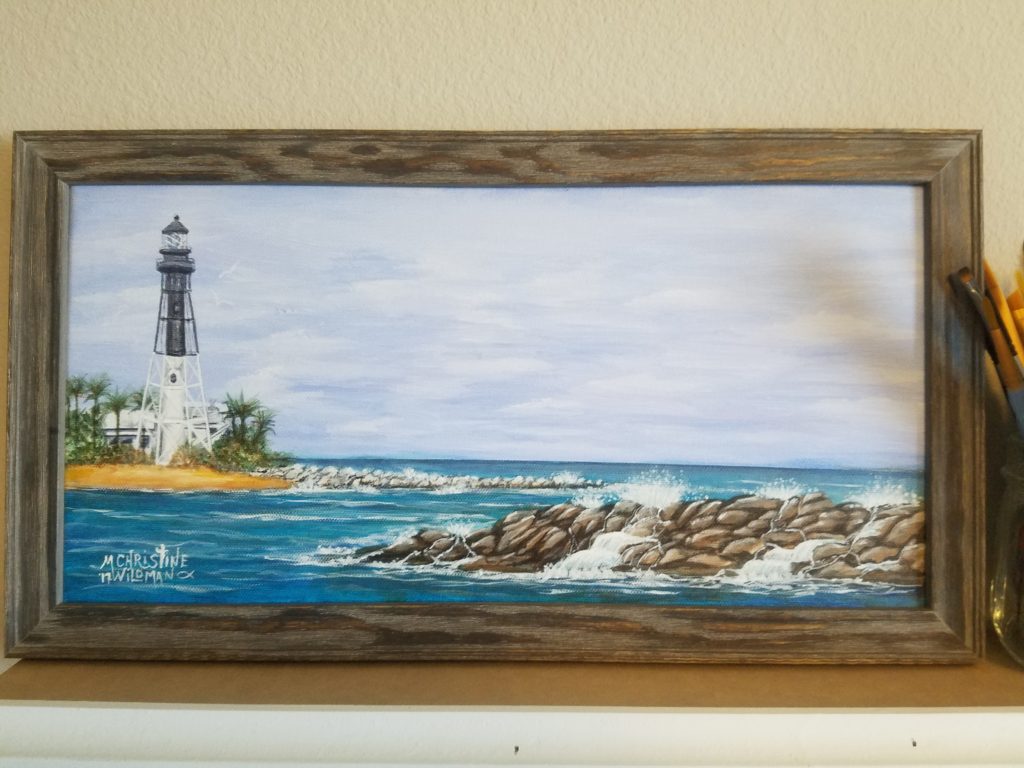 Here's my next lighthouse painting…the split sheet is from a photo I was given permission to paint, and the other is reference for the colors. It's going to be framed and hung with Pompano Light! This is Silver Beach Light house in Michigan.
I'll add that post when I do it. Thank you for joining me!
Jesus IS the Light of my life!
Thanks for joining me in this journey,
In His hands and under His wings,
~Christi
Ps 63:7 Because you are my help, I sing in the shadow of your wings.
"The Lord does not give me rules, but He makes His standard very clear.
If my relationship to Him is that of love, I will do what He says without hesitation.
If I hesitate, it is because I love someone I have placed in competition with Him, namely, myself." – from My Utmost for His highest
I want to thank
for the ability to search the Bible online.
Some artwork is from me – ChristArtist. It is copyrighted – by me. Please do not share it without my permission.
The same goes for my written work.
Some artwork is from ChristArt – not me! I have purchased a membership, and the art is copyrighted by them.
I'd love to hear what you think – please leave a comment! Or choose to LIKE me on facebook, follow me on Pinterest, or other social media!
I'd love to stay in touch with you – we are working on email subscriptions…sign up!
Soon, we will have a gallery for the art I have created by the hand of God.
There are many organizations that support children and families. Here is one that we are blessed to be a part of. Please consider sponsoring a child – the life you change could be your own.
Please follow and like us: