Psalm 90:12 – teach me to number my days so that I might apply my heart to WISDOM!
Or, officially:
Psalm 90:12
12 So teach us to number our days
that we may get a heart of wisdom.
My last post for my one word was on timeliness, or specifically, timing.
At this time in my life – I have a husband dealing with prostate cancer, and a dog that is dealing with oral melanoma, friends that have dealt with breast cancer surgeries, and I'm praying for some friends' family members dealing with very serious cancer diagnoses.
Cancer seems to bring timeliness up…it makes people appreciate the time they have left.
What happens when someone is diagnosed with cancer?
Often, they start taking account of their lives, and making sure their 'house' is in order – that their relationships are in order – that they have more life in the days they have left – rather than more days added to their life.
When you are aware of Jesus coming – whether in your life time, as in your days or short, or as in the Biblical end of the world – you tend to put your house in order.
Hezekiah was addressed by Isaiah when it was his time…Isaiah 38:1
In those days was Hezekiah sick unto death. And Isaiah the prophet the son of Amoz came unto him, and said unto him, Thus saith the Lord, Set thine house in order: for thou shalt die, and not live.
I'm not going to talk about how he asked for more time, and that more time gave him the son that became the most wicked king over Israel – but, my point is, get your house in order!
In our church sermons, our pastor has been teaching from the book of Mark. This past Sunday, it was about the Gadarene demoniac in Mark 5. On Monday, we have a small group that meets to discuss the sermon from Sunday(not chew up the pastor and spit him out…but rather to dig deeper into the message).
This is a BAPTIST church, and the pastor is talking about demon possession, or demonizing.
The pastor is teaching about the ways of the enemy!
The pastor is warning us about being alert and attentive to the enemy's tactics.
And it was within this study that I was struck with something VERY powerful for me.
The devil wants us to hold on to wounds and irritations and miscommunications so that we are divided!
The story about the demon possessed man is in Mark 5:1-20
Short version.
Man is crazy, filled with legion(a legion is 6000) of demons.
Jesus makes a trip across a lake to meet him.
He runs to Jesus – Jesus commands the demons out – pigs run into the lake and are drowned.
Man is in his right mind for the first time in who knows when.
Pig owner and townspeople get mad and tell Jesus to leave.
WHY were they so upset?
devils tactics…they were more concerned with the financial loss than with the obvious miracle in this man's life!
This isn't to judge the townspeople – this was an instant thing…they were NOT Jews…they were gentiles and how on earth did they have any basis to process this happening other than what they could see? 2000 pigs lost in one day! That's the meat for the whole community…the livelihood of at least ONE man…if not several.
The point is that it's the devil's plan to steal, kill and destroy the testimony of Jesus! John 10:10
What is the single most damaging thing between family members?
unresolved hurts.
Think about YOUR family…is there anyone you haven't talked to in a long time?
why not?
did something happen?
is someone's feelings hurt?
was someone wronged?
Hezekiah felt that he'd been wronged by not having a son….oops! Isaiah 58
Jacob's sons felt that they'd been wronged by their father favoring their brother Joseph. oops! Genesis 37
Esau felt that he'd been cheated by his brother Jacob! oops….Genesis 27
Ishmael wasn't too happy about Issac being the favored son! oops! Genesis 21(and this is where the middle east conflict started!)
Cain did not like that Abel's sacrifice as accepted, and his was not! first murder!Genesis 4
Jesus tells us to be careful! It's even MORE dangerous than the old testament teachings!
Matthew 5:21-26
21 "You have heard that it was said to those of old, 'You shall not murder; and whoever murders will be liable to judgment.'
22 But I say to you that everyone who is angry with his brother will be liable to judgment; whoever insults his brother will be liable to the council; and whoever says, 'You fool!' will be liable to the hell of fire.
23 So if you are offering your gift at the altar and there remember that your brother has something against you,
24 leave your gift there before the altar and go. First be reconciled to your brother, and then come and offer your gift.
25 Come to terms quickly with your accuser while you are going with him to court, lest your accuser hand you over to the judge, and the judge to the guard, and you be put in prison.
26 Truly, I say to you, you will never get out until you have paid the last penny.
It's not even an implication here. He speaks it pretty clearly!
if we know that someone has something against us – BEFORE we offer OUR offering to the Lord…FIRST be reconciled with the one that is offended!
And, what if we're sinned against?
Matthew 18:15-17
We're still supposed to work on a peaceful conflict resolution!
15 "If your brother sins against you, go and tell him his fault, between you and him alone. If he listens to you, you have gained your brother.
16 But if he does not listen, take one or two others along with you, that every charge may be established by the evidence of two or three witnesses.
17 If he refuses to listen to them, tell it to the church. And if he refuses to listen even to the church, let him be to you as a Gentile and a tax collector.
WHY IS IS SO IMPORTANT FOR US TO CLEAR UP THESE ISSUES WITH ANOTHER PERSON????
Be sober, be vigilant; because your adversary the devil, as a roaring lion, walketh about, seeking whom he may devour:(KJV)
Be serious! Be alert! Your adversary the Devil is prowling around like a roaring lion, looking for anyone he can devour. (Holman Christian)
Be sober and self-controlled. Be watchful. Your adversary the devil, walks around like a roaring lion, seeking whom he may devour.(New Heart English)
Be temperate and vigilant because your adversary the devil, as a roaring lion, walks about, seeking whom he may devour,(Jubilee Bible)
Be alert and of sober mind. Your enemy the devil prowls around like a roaring lion looking for someone to devour.(NIV)
Stay alert! Watch out for your great enemy, the devil. He prowls around like a roaring lion, looking for someone to devour.(NLT)
Be sober-minded; be watchful. Your adversary the devil prowls around like a roaring lion, seeking someone to devour.(ESV)
My favorite version – amplified:
8 Be sober [well balanced and self-disciplined], be alert and cautious at all times. That enemy of yours, the devil, prowls around like a roaring lion [fiercely hungry], seeking someone to devour.
WHY? Because we are to be aware of the tactics of the enemy…and one of his tactics is division.
In our dig deeper study, we were given 1 cor 2:10-11 as applying here.
10 Anyone whom you forgive, I also forgive. Indeed, what I have forgiven, if I have forgiven anything, has been for your sake in the presence of Christ,
11 so that we would not be outwitted by Satan; for we are not ignorant of his designs.
This verse was causing me trouble…I did not know how it applied to the concept of the Gadarene Demoniac in Mark 5. Where was the need for forgiving…and what does that have to do with THIS???
11 so that we would not be outwitted by Satan; for we are not ignorant of his designs.
How do you battle an enemy? first you have to recognize him….
then you have to acknowledge his methods!
We have Armor:
Ephesians 6:10-13
10 Finally, be strong in the Lord and in the strength of his might.
11 Put on the whole armor of God, that you may be able to stand against the schemes of the devil.
12 For we do not wrestle against flesh and blood, but against the rulers, against the authorities, against the cosmic powers over this present darkness, against the spiritual forces of evil in the heavenly places.
13 Therefore take up the whole armor of God, that you may be able to withstand in the evil day, and having done all, to stand firm.
There is so much there, in that passage, about spiritual warfare….we do not wrestle with FLESH AND BLOOD!
One of the first steps of Peaceful Conflict Resolution is to NOT attack the other person…flesh and blood…but to discuss the PROBLEM.
In the case of the enemy – he influences us at our weakest points, and drives wedges between us and God.
How?
Genesis 3
1Now the serpent was more subtil than any beast of the field which the Lord God had made. And he said unto the woman, Yea, hath God said, Ye shall not eat of every tree of the garden?
6 And when the woman saw that the tree was good for food, and that it was pleasant to the eyes, and a tree to be desired to make one wise, she took of the fruit thereof, and did eat, and gave also unto her husband with her; and he did eat.
For all that is in the world, the lust of the flesh, and the lust of the eyes, and the pride of life, is not of the Father, but is of the world.
What causes quarrels and what causes fights among you? Is it not this, that your passions are at war within you?
2 You desire and do not have, so you murder. You covet and cannot obtain, so you fight and quarrel. You do not have, because you do not ask.
3 You ask and do not receive, because you ask wrongly, to spend it on your passions.
12 Blessed is the man that endureth temptation: for when he is tried, he shall receive the crown of life, which the Lord hath promised to them that love him.
13 Let no man say when he is tempted, I am tempted of God: for God cannot be tempted with evil, neither tempteth he any man:
14 But every man is tempted, when he is drawn away of his own lust, and enticed.
15 Then when lust hath conceived, it bringeth forth sin: and sin, when it is finished, bringeth forth death.
16 Do not err, my beloved brethren.
These are the same three issues with which the enemy tried to test Jesus, to make him fall! Matthew 4
15 For we do not have a high priest who is unable to sympathize with our weaknesses, but one who in every respect has been tempted as we are, yet without sin.
It is OUR issue that causes us troubles…OUR lusts and passions and such. THESE are what we are able to control!
When little Johnny gets mad at little Chrissy because she has a piece of bread and he doesn't…is it really that he has an issue with Chrissy, or is it that he wants the bread…and doesn't want her to have it?
When Tommy gets better grades than Billy, is it Tommy that Billy is angry at? Or embarassment that he didn't do as well?
When Joe sees another car on the road that is going the speed limit and he wants to be going 10 mph faster, and can't get around them, is it really that they are angry at the other driver, or is it that they are angry that they cannot do what they want?
When someone spills a drink in a bar, does the other person(spillee) really have an issue with the spiller, or is their ego affected?
When someone has an affair, does the other person in the situation have an issue with the PERSON with whom the affair was committed, or that they were injured, in their trust, their confidence, their emotional property?
When one group of people is offended by an ugly past and demands that all evidence of that past (statues) be removed, and those that declare that the evidence is part of the past, and that they have learned from it – who are the people angry with? Those living today or the hurts from the past that have not been resolved?
When someone stands up for what is right for their own lifestyle – do others get mad at them for being homosexual, atheist, muslim, Christian, or brightly colored hair? Or do they get mad that they are not confident enough to stand up for their own beliefs and allow others to stand up as well.
I'm not talking about someone hitting, stealing, damaging or whatever.
I'm not talking about legal ramifications.
There are laws against so many actions…and the only choice is to punish the person having done the action.
The gadarene demoniac was often chained…bound…and he lived among the tombs.
Mark 5:
3 Who had his dwelling among the tombs; and no man could bind him, no, not with chains:
4 Because that he had been often bound with fetters and chains, and the chains had been plucked asunder by him, and the fetters broken in pieces: neither could any man tame him.
5 And always, night and day, he was in the mountains, and in the tombs, crying, and cutting himself with stones.
He was removed from society.
They had done some pretty serious things to him to try to control him.
He was scary.
He was unwelcome.
The thing here isn't that what he did was ok…the thing is that often we react to what the other person does…and attack the other person…rather than try to figure out how to find a solution.
Where is the person in all of this?
What is going on in the offenders life at this time?
We do not wrestle against flesh and blood….
there are so many unseen things going in, and to figure out how to deal with it, one must take the TIME to understand the other person.
Again – I do not agree with giving criminal behavior a pass for poor childhood, even mental illness.
But, OUR response, as taught by Jesus MUST be other than attacking the other person!
OUR response, as taught by Jesus MUST be about reconciliation – which may include restitution and maybe some separation for a time.
NEVER REVENGE!
Not even retribution!
Our response needs to be forgiveness!
James 1:19-20
19 Understand this, my beloved brothers and sisters.
Let everyone be quick to hear [be a careful, thoughtful listener],
slow to speak [a speaker of carefully chosen words and],
slow to anger [patient, reflective, forgiving];
20 for the [resentful, deep-seated] anger of man does not produce the righteousness of God [that standard of behavior which He requires from us].
There is an interesting list of proverbs as the cross references for James 1:19 on Bible Hub.
Can you truly forgive if you are still angry? I don't think so…but, that's really between you and God!
The issue is that if you hold onto the anger – the hurt – the wounds, and do not forgive, you poison yourself!
Hebrews 12:14-16
14 Strive for peace with everyone, and for the holiness without which no one will see the Lord.
15 See to it that no one fails to obtain the grace of God; that no "root of bitterness" springs up and causes trouble, and by it many become defiled;
16 that no one is sexually immoral or unholy like Esau, who sold his birthright for a single meal.
Ephesians 4:31-32
31 Let all bitterness and wrath and anger and clamor [perpetual animosity, resentment, strife, fault-finding] and slander be put away from you, along with every kind of malice [all spitefulness, verbal abuse, malevolence].
32 Be kind and helpful to one another, tender-hearted [compassionate, understanding], forgiving one another [readily and freely], just as God in Christ also forgave you.
The enemy:
1 Peter 5:8
8 Be sober [well balanced and self-disciplined], be alert and cautious at all times. That enemy of yours, the devil, prowls around like a roaring lion [fiercely hungry], seeking someone to devour.
The Answer:
John 10:10
10 The thief comes only to steal and kill and destroy. I came that they may have life and have it abundantly.
Our responsibility when we are hurt:
Matthew 6:14-15
14 For if you forgive others their trespasses, your heavenly Father will also forgive you,
15 but if you do not forgive others their trespasses, neither will your Father forgive your trespasses.
Then we can go back round to 2 Corinthians 2:10-11
10 Anyone whom you forgive, I also forgive. Indeed, what I have forgiven, if I have forgiven anything, has been for your sake in the presence of Christ,
11 so that we would not be outwitted by Satan; for we are not ignorant of his designs.
It really had nothing to do with the Gadarene Demoniac, as much as the concept had to do with understanding the wiles of the enemy…
And taking up our Armor, and utilizing our weapons!
2 Corinthians 10:3-6
3 For though we walk in the flesh, we are not waging war according to the flesh.
4 For the weapons of our warfare are not of the flesh but have divine power to destroy strongholds.
5 We destroy arguments and every lofty opinion raised against the knowledge of God, and take every thought captive to obey Christ,
6 being ready to punish every disobedience, when your obedience is complete.
Where do we do our warfare?
On our knees.
In the presence of God Our Father, through Jesus Christ His son, by the power of the Holy Spirit living within us!
I just read this blog about 10 Ways Prayers are Hindered.
If you take this with the verse:
James 5:16
16 Therefore, confess your sins to one another and pray for one another, that you may be healed. The prayer of a righteous person has great power as it is working.
It is OUR prayers that need to be heard….
It is OUR right relationship with God that needs to be considered…
And, in order to battle in the spiritual realm…we need first to consider ourselves.
I mentioned the first step of teaching peaceful conflict resolution.
I taught it to 1st and 2nd graders, and supported the group that taught peer mediators in schools.
focus on the problem, not the person. don't attack the person.
listen – to each other
reflect what the other said – show understanding.
find common ground and a resolution that is mutually agreeable.
Practice what you agreed upon.
A middle school source gives three steps and a graphic.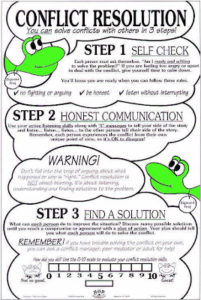 Here is a current group that are teaching this to youths. The First Tee talks about Four steps to resolving conflict!
Here are 5 steps for a mediator to utilize when someone else needs to come into the situation.
Here are 6 steps to resolve conflict in the workplace.
Pastor Rick Warren talks about 7 steps to resolve a conflict and restore a broken relationship, based on Blessed are the PeaceMakers.
It doesn't matter how many steps it takes…we have to take the steps!
First, one has to be able to let go…forgive.
Then, be reconciled.
And THEN – we can give our offerings, our gifts, our talents to the Lord.
And then, we are called the children of God.
The enemy wants to divide and conquer.
God wants the body to be united and victorious.
Unforgiveness is a huge cause for bitterness – and bitterness poisons everything!
How long do we want to hold onto bitterness, and not see the Power of God in our lives?
Am I so hung up on MY rights that I am willing to not only give up on the other person's ability to be reconciled to me, and GOD, but to give up MY ability to dwell in God's presence?
Psalm 91
1 He who dwells in the shelter of the Most High
will abide in the shadow of the Almighty.
2 I will say to the Lord, "My refuge and my fortress,
my God, in whom I trust."
3 For he will deliver you from the snare of the fowler
and from the deadly pestilence.
4 He will cover you with his pinions,
and under his wings you will find refuge;
his faithfulness is a shield and buckler.
5 You will not fear the terror of the night,
nor the arrow that flies by day,
6 nor the pestilence that stalks in darkness,
nor the destruction that wastes at noonday.
7 A thousand may fall at your side,
ten thousand at your right hand,
but it will not come near you.
8 You will only look with your eyes
and see the recompense of the wicked.
9 Because you have made the Lord your dwelling place—
the Most High, who is my refuge—
10 no evil shall be allowed to befall you,
no plague come near your tent.
11 For he will command his angels concerning you
to guard you in all your ways.
12 On their hands they will bear you up,
lest you strike your foot against a stone.
13 You will tread on the lion and the adder;
the young lion and the serpent you will trample underfoot.
14 "Because he holds fast to me in love, I will deliver him;
I will protect him, because he knows my name.
15 When he calls to me, I will answer him;
I will be with him in trouble;
I will rescue him and honor him.
16 With long life I will satisfy him
and show him my salvation."
WHAT PART OF THIS DO I WANT TO RISK LOSING IN MY LIFE????
IS HOLDING ONTO BITTERNESS WORTH IT?
Proverbs 14:30
A peaceful heart leads to a healthy body; jealousy is like cancer in the bones.
Jealousy is often mentioned in the same thought with wrath, and such.
In the presence of the Lord, there is fullness of Joy…
PEACE is the opposite of Anger…
The fruit of the spirit is Love, Joy, Peace…LONGSUFFERING!
I declare that I want to be like Jesus.
Jesus forgave…and tells me to forgive.
When Jesus said Father forgive them – he was in such an excruciating situation, and yet, HE thought to say HE forgave those that put HIM on that cross…both then, before and after.
JESUS FORGAVE DURING THE ACT AGAINST HIM!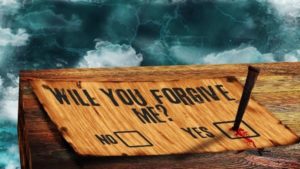 That is even more immediate than immediately after someone hurts me!
but, yes, I'm human, I may need time to process…but how much time?
How long do I want to wallow in my own self pity, and hold on to my own poison, waiting for the offender to hurt?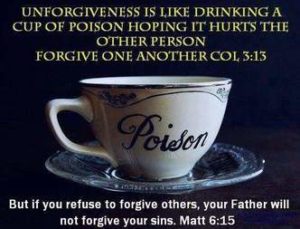 I have written about forgiveness – in my Itty Bitty Bible Study on Ephesians, and in light of a very dark past, written about during my prayer thoughts on My One Word.
Forgiveness is a key in my life story!
I spent so many years in a church that prayed the lord's prayer every time we were gathered!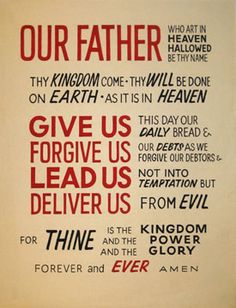 I really have no choice…if I am grateful t Jesus – I must forgive…and share that with anyone and everyone I meet!
Here's a couple more!
One Step Away – Casting Crowns
Your Love – Brandon Heath
Rather than wallow in my pain, and blame, my desire is to offer God's love, mercy, grace and MY forgiveness because HE first loved ME!
Join me?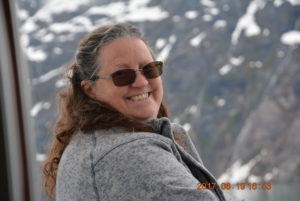 Thanks for joining me in this journey,
In His hands and under His wings,
~Christi
Ps 63:7 Because you are my help, I sing in the shadow of your wings.
"The Lord does not give me rules, but He makes His standard very clear.
If my relationship to Him is that of love, I will do what He says without hesitation.
If I hesitate, it is because I love someone I have placed in competition with Him, namely, myself." – from My Utmost for His highest
I want to thank
for the ability to search the Bible online.
Some artwork is from me – ChristArtist. It is copyrighted – by me. Please do not share it without my permission.
The same goes for my written work.
Some artwork is from ChristArt – not me! I have purchased a membership, and the art is copyrighted by them.
I'd love to hear what you think – please leave a comment!
Or choose to LIKE me on facebook, or other social media!
I'd love to stay in touch with you – we are working on email subscriptions…sign up! 
Soon, we will have a gallery for the art I have created by the hand of God.
There are many organizations that support children and families. Here is one that we are blessed to be a part of. Please consider sponsoring a child – the life you change could be your own.
Please follow and like us: