If numbering my days to obtain wisdom, and peace, and understanding and glorifying God is my goal, wouldn't the fact that HE designs my steps be an amazing answer to this prayer?
Psalm 90:12
12 So teach us to number our days
that we may get a heart of wisdom.
I've written enough about what Godly wisdom is…by doing a search on The WildBerry Patch, here is what I came up with! Wisdom Posts
In the most recent Itty Bitty Bible Study on Philippians, I talked about the fruit of righteousness, which is very similar!
If that doesn't work, just type in wisdom in the search bar!I ought to add it as one of my tags!
So, what happened today that effected me? I was a blessed observer to the Lord composing an orchestral symphony of my life!
It started yesterday – with a visit to Gabriel's vet, and learning how to objectively, or at least MORE objectively calculate his quality of life before we decide to ease him "over the rainbow bridge".
I became very aware of needing to take into account the good things each day.
This morning, I intended to be with a friend while she waited for a detective to call about the murder of her daughter. This was an unknown timeframe.
This morning, I intended to see my chiropractor – I thought at 10:30.
This morning, I realized that Gabriel needed to be with me – so I was not going to leave him long, and I needed to find a pair of nail trimmers to ease the discomfort of his VERY long nails.
I left home at 9am, headed to the pet store before the chiro.
I got to Pet Co – and purchased a pair of clippers, and a few other items to give Gabriel a nice spa day.
I got back to the car at 9:30 and realized my appointment was at 11:45. IT's too early to go in and it's not long enough to go home and see Gabe, and then come back – so, I canceled my dr. appointment.
(cue the violins to start the symphony)
As I was driving home, the noisy fan(I thought) continued, and the car started to rattle and shake, and lose power! (cymbal?) I had just gotten to the bottom of the hill, and realized the lack of power with an empty turn lane beside me (cue flutes fluttering) and the potential of getting off the road.
(clarinets)
maybe I can get into the turn lane
(oboes)
maybe I can get to the section between the lanes
(cellos)
Maybe I can get into the road towards the parking lots
(basses)
maybe I can get to the dirt parking lot
(Saxes)
looks like I can get into the Bob Evans Parking lot in the rear!
(enter drums and horns!).
I called Jim – told me to stay put and call an uber.
(cue muted trumpet – he was able to answer my phone!)
I called my friend Beth who said "don't call an uber, I'll come pick you up" –
(cue violins – this is my friend awaiting the call from the detective)
I called my friend Michele who was dropping her car off, and had to be home by 11 for a conference call.
(cue string section, and wood section)
My friend and server Lisa was sitting at the counter, and I was able to sit with her, and share some of my story about my trips, as well as talk to her about how Jesus is comforting me.
(add some drums – she wasn't supposed to come in today, but she did because yesterday was so packed, that she thought they may need her)
My friends Michele and Marty showed up earlier, and I was able to treat them to coffee and toast!
(add the horns! they got there at 10:13 – well in time for her to drop me off!)
(pianissimo…)
Now – as we left the restaurant – I got a call….
It's Beth – she'd gotten the call!
(cue Crescendo – tympani and all manner of percussion!)
IF SHE HAD COME TO GET ME – SHE WOULD HAVE BEEN IN THE CAR WHEN THE DETECTIVE CALLED!
(cue melodious music…)
I was tickled that God had handled the timing for Beth….
And I was grateful to my friends, Michele and Marty for bringing me home…
And I started babying Gabriel.
(cue more interesting melody, as if something else will happen)
then the Mail Lady came up as I was brushing Gabriel.
(crescendo…)
We talked of our vacations
We talked of our families
We talked of our faith
(cue cymbals and drums and horns)
she shared how her nephew was a struggling person with homelessness and addiction!
(boom boom boom boom crash of the cymbal!)
And I had the information about New Beginnings here in Clermont.
(cue finale)
IF I HAD BEEN AT THE DOCTORS, OR WITH BETH, OR AT BETH'S HOUSE, OR WAITING FOR AN UBER INSTEAD OF MICHELE AND MARTY PICKING ME UP WITH THEIR TIME FRAME – I WOULD NOT HAVE BEEN HERE WHEN ELIZABETH STOPPED BY, AND I WOULD NOT HAVE HEARD HER STORY!
She left with information about the new beginnings ministry, saying that it was an answer to prayer that she has wanted to work with this type of ministry, because of her family story, and her walk as a Christian! YAY!!!
(And – cue final note!)
Why do I say this started yesterday?
The strange fan sound was there in the Tahoe yesterday as I drove for 20 miles there and 20 miles back, and Gabriel and I were fine.
It didn't break down with a sick dog in the car, in the summer heat.
My concern for being with Gabriel was part of the urgency for me to get home.
Of course, anyone who has been reading my blogs knows that this timeliness issue has been working in me since last year…and specifically since this year's one word – #mydays!
(reprise)
In case it's not clear that today is orchestrated by God – as I was sitting here, I saw the garbage truck drive by – just in time to grab the trash, and run it, and the trash can out to the side of the road to get it picked up!
Yes, the driver/operator saw me run the trash can out…and as he turned around, to come towards our house, he saw me throw a bag of trash into the can…and back away so that he could pick it up. He waved!
Psalm 37:23-24
23 The steps of a good man are ordered by the Lord: and he delighteth in his way.
24 Though he fall, he shall not be utterly cast down: for the Lord upholdeth him with his hand.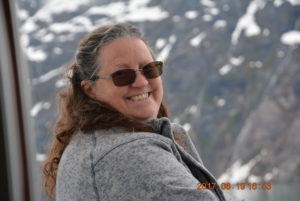 Thanks for joining me in this journey,
In His hands and under His wings,
~Christi
Ps 63:7 Because you are my help, I sing in the shadow of your wings.
"The Lord does not give me rules, but He makes His standard very clear.
If my relationship to Him is that of love, I will do what He says without hesitation.
If I hesitate, it is because I love someone I have placed in competition with Him, namely, myself." – from My Utmost for His highest
I want to thank
for the ability to search the Bible online.
Some artwork is from me – ChristArtist. It is copyrighted – by me. Please do not share it without my permission.
The same goes for my written work.
Some artwork is from ChristArt – not me! I have purchased a membership, and the art is copyrighted by them.
I'd love to hear what you think – please leave a comment!
Or choose to LIKE me on facebook, or other social media!
I'd love to stay in touch with you – we are working on email subscriptions…sign up! 
Soon, we will have a gallery for the art I have created by the hand of God.
There are many organizations that support children and families. Here is one that we are blessed to be a part of. Please consider sponsoring a child – the life you change could be your own.
Please follow and like us: