Often, I am given things in the middle of the night. Most of the time, I just lie there and beg to go back to sleep! Recently, I've been convicted to share these ramblings, and I've had some encouraging responses. So – here goes obedience! ~Christi
This is day 6 of 100 in 2018
and this fits into my one word(phrase) be like Jesus.
Okay, so I've binged. I ate the whole bag of Christmas chocolates.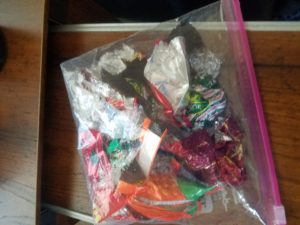 I admit,
I am sick and tired of having problems with my legs.
I hate having to put the braces on to stretch out the tendons so that I don't have the electric shock things.
I hate having to put ointment on my legs,
I hate having to wrap my legs,
I hate having to wear socks that compress my legs, and
I hate the fact that I'm doing all of these things and have no idea why I'm doing it because no one knows what's going on.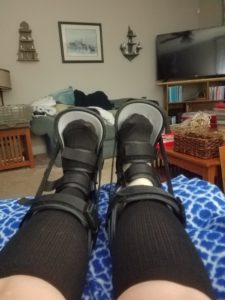 NO ONE?

Well someone knows.
God knows.
God knows what's going on with my body,
God knows what's going on with my heart,
God knows what's going on with my mind.
Romans 8:28English Standard Version (ESV)
28 And we know that for those who love God all things work together for good,[a] for those who are called according to his purpose.
Ephesians 2:10English Standard Version (ESV)
10 For we are his workmanship, created in Christ Jesus for good works, which God prepared beforehand, that we should walk in them.
I have no idea what good works I can do when I'm spending so much time dealing with pain, headaches, other strange things that I get doctor saying "ooh that's really weird, but I have no idea what it is!"
But God knows.
And I know God.
And one thing I know about God is it that he intends everything that happens in my life to do something good in me, so that I can glorify him in my life .
God says it…and I say I believe God…so therefore, I believe it is true, whether I understand or not.
Glorify God in my struggles?
Jesus said to let our light shine so that others would glorify God. (Matthew 5:16). Our purpose here is to glorify the King of Kings Lord of lords, Glory Glory! Our purpose here is to share with others the love, grace, mercy that is the heart of the King of kings and Lord of lords. And since there are going to be trials (thank you James), and we're not supposed to be surprised that they come upon us (Thank you, Peter), we are to count it joy(Thanks again, James), we are to share our love, we are to be in peace, and the whole point of struggling, and suffering with Jesus, is to show how to suffer with Jesus (thanks again, Peter!).
For that matter – we're not supposed to be surprised if the world hates us! (Thank you, Jesus, as reported by John!) They hated him, first.
1 Peter 2:12English Standard Version (ESV)
12 Keep your conduct among the Gentiles honorable, so that when they speak against you as evildoers, they may see your good deeds and glorify God on the day of visitation.
Empathy
There's a verse about participating in the sufferings of Jesus, and that's not what I'm talking about here, because this is about chronic illness, mental illness, and such things. These were not issues that Jesus dealt with, specifically.
For me, this is not confessing to be a Christian. Here in the United States of America, for the most part, it's not hard to confess to be a Christian.
Suffering well, in any situation, shows others hope in their situation. Participating in suffering gives us a bridge to touch others who are suffering, because we can empathize, not just sympathize. Experiential Compassion.
Do Good?
For the most part, most Christians don't look any different than everybody else. For the most part, the majority of the population gives the Christian church, and any faith-based anything really, a wide berth as do-gooders. But is that the tag, the evidence, of our Christianity? Doing Good?
I know that there are people that do not believe in Christ, who have no basic faith statement, but are good people! They choose to support the poor, to donate to organizations that help the homeless, that restore are land, help our schools, etc., etc., etc. How does that look any different than the Christians who collect food for the food pantry, go in and help with floods, and give their money wherever? How are WE supposed to look different?
How are OUR good works supposed to look differently?
Matthew 5:16
In the same way, let your light shine before others, so that they may see your good works and give glory to your Father who is in heaven.
For me, with the problems I have with my legs, I can't go stand at a soup kitchen, I can't go serve for the floods, there's so many things that I cannot do, and good people are doing more good than I am. So how do I stand out as a Christian in the midst of the darkness that we are surrounded by? How do I show empathy, and experiential compassion from the core of my faith? From Jesus in me?
LOVE
Jesus said to or through John that they will know us by our love. It has to be something different about our love compared to the love of your basic do-gooder. The love of Jesus was a love that suffered, and died, on our behalf. His life shows us how he struggled with those that would say things against him, that would choose to throw him off the cliff, and how he actually responded those last days as he knew he was going to end up on the cross.
What do we have to show, differently?
We love because he first loved us(1 John 4:19).
He loved us while we were yet sinners(Romans 5:8).
For God so loved the world that he gave his only begotten son (John 3:16).
The symbol of our Christianity is that they will know us by our love(John 13:35).
Jesus showed us his love when as he was being tried and beaten and made fun of, he looked over and his best friend had just denied him.
Jesus showed us his love, when another of his disciples did not believe that he had risen and demanded to touch his feet and hands.
Jesus showed us his love when he embraced Peter back into the fold and asked him to feed his sheep.
Jesus showed us his love while he was hanging on the cross, and he looked down and asked John to take care of his mother Mary even though he knew he had brothers that could do the job.
How Can I show this type of Love?
Love is patient, love is kind, love is not envious, and does not seek its own way… And the rest of 1 Corinthians 13. As Paul said, if I speak with the tongue of angels and have not love, I am just a noisy gong.
This is NOT easy…and this is a growth!
JOY
Joy is another key that Christ has given us in the midst of trial.
He came that we would have joy and have it fully(John 15:11).
The joy of the Lord is our strength (Neh 8:10).
And in his presence is Joy forever more (Psalm 16:11).
KEY —> if we don't have joy, it's because we haven't spent time in the presence of our King and Joy Giver.
I can't really talk about Jesus showing Joy because that's not really what the scripture talks about when it talks about how Christ responded. But I can say scripture points to Joy. The fruit of the spirit is love, joy, peace, and I think the next is patience or long-suffering(yep, Gal 5:22-23). The spirit that is providing us with these fruit to grow is the Holy Spirit, the part of God that lives within us. So we should exhibit the love, and we need to exhibit the joy.
But on top of that, there's some aspect of joy that should just emanate from the Christian, as well as peace in the midst of Trials.
PEACE
The next way to be different than the world in my trials is to have peace.
The peace of God that passes all understanding and keeps my heart and mind in Christ Jesus(Phil 4:7),
Who is the Prince of Peace(Is 9:6),
Who spoke to the storm "peace, Be Still" (Mark 4:35-41)
and said to us "be still and know that I am God" (Psalm 46:10).
In the world there are tribulations (John 16:33)) but HE promises us peace.
Someone without the spirit of God within misses out on the peace that God grants us through his word and through prayer and through the privilege of fellowship with our creator father. So peace is the other indicator of our walk with Christ.
In Foxe's Book of Martyrs, you can read about people that were singing hymns while they were burning at the stake. That is definitely joy and peace in the midst of a very serious trial. And I have never been asked to confess my faith or renounce my faith at the pain of death, or bodily harm. In our lifetime there have been Christians beheaded in Ethiopia area, there have been people, students, shot in schools because they were asked if they were Christian. There are Christians in China and India that are being tortured and killed. And I know someone from Indonesia who tells of the story of it being so dangerous to be Christian there. I want to look different, even here, in the United States.
I want to look like JESUS!
Conclusion?
James said
James 1: ESV
2 Count it all joy, my brothers, when you meet trials of various kinds,
3 for you know that the testing of your faith produces steadfastness.
4 And let steadfastness have its full effect, that you may be perfect and complete, lacking in nothing.
The point is, sometimes trials are what God uses to grow us in love, joy, peace and patience (no, I didn't write about patience, but it's a good fruit to have!). When we exhibit that love, joy, peace and patience in the midst of turmoil, we actually glorify God in the midst of our struggles, and that is a very good thing. If in any way I can help someone walk through their Darkness and find some light from the Lord that brings them love, joy, peace, and patience as they face what seems to be insurmountable terrors and trauma and trials and tribulations, then my trials and tribulations have value. This is where God takes coal of my life and presses it with intense pressure, and heat(fiery trials), and eventually brings forth a diamond that is a jewel in His crown to glorify him when I see him face to face.
My Prayer
I confess the struggle with my human flesh dealing with pains and such, and I ask my Lord and Savior for strength to endure with character qualities that glorify him. And I pray that my life would be given over and a sacrifice for his glory and to help whoever may need help to take the next step as they walk to the Valley of the shadow of death.
RESOURCES
Verses about Love from Daily Verse .net
Verses about Joy from Daily Verse .net
Verses about Peace from Daily Verse .net
And for good measure:
Verses about Patience from Daily Verse .net
Thanks for joining me in this journey,
In His hands and under His wings,
~Christi
Ps 63:7 Because you are my help, I sing in the shadow of your wings.
"The Lord does not give me rules, but He makes His standard very clear.
If my relationship to Him is that of love, I will do what He says without hesitation.
If I hesitate, it is because I love someone I have placed in competition with Him, namely, myself." – from My Utmost for His highest
I want to thank
for the ability to search the Bible online.
Some artwork is from me – ChristArtist. It is copyrighted – by me. Please do not share it without my permission. The same goes for my written work.
Some artwork is from ChristArt – not me! I have purchased a membership, and the art is copyrighted by them.
I'd love to stay in touch with you – we are working on email subscriptions…sign up!
Soon, we will have a gallery for the art I have created by the hand of God.
There are many organizations that support children and families. Here are ones that we are blessed to be a part of. Please consider sponsoring a child – the life you change could be your own.
Please follow and like us: