My thoughts for the Itty Bitty Bible Study group on Facebook. (join if you'd like to get these in fb!) The conversation started Monday, February 5th.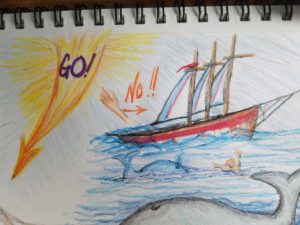 Itty Bitty Bible Study – Jonah – introduction
Itty Bitty Bible Study – Jonah chapter 1
Jonah is in the fish
Now, Jonah starts to pray.
It sounds like this:
Psalm 18:3-6 King James Version (KJV)
3 I will call upon the Lord, who is worthy to be praised: so shall I be saved from mine enemies.
4 The sorrows of death compassed me, and the floods of ungodly men made me afraid.
5 The sorrows of hell compassed me about: the snares of death prevented me.
6 In my distress I called upon the Lord, and cried unto my God: he heard my voice out of his temple, and my cry came before him, even into his ears.
and this:
Psalm 116 King James Version (KJV)
116 I love the Lord, because he hath heard my voice and my supplications.
2 Because he hath inclined his ear unto me, therefore will I call upon him as long as I live.
3 The sorrows of death compassed me, and the pains of hell gat hold upon me: I found trouble and sorrow.
4 Then called I upon the name of the Lord; O Lord, I beseech thee, deliver my soul.
Really, the whole of Psalm 116.
and this:
Psalm 34:4 King James Version (KJV)
4 I sought the Lord, and he heard me, and delivered me from all my fears.
Foxhole Prayers are NOT unusual.
More of my story:
I was laying in the Recruit Training Center infirmary – not able to put weight on my right leg. Everything was stark white…cold, antiseptic, lonely. Recruits don't usually get sick, so, I was the only one there. Recruits are treated like non people, so I was ignored except when they needed to care for me. I don't know if it was three days in there…or when, but I asked the Lord, why?….and he said "I told you not to go to the navy, but to go to college."
yes, I know…but…
now, I'm paralyzed for all intents and purposes.
I knew that there was probably no way I was going to get out of the navy, or I was going to be sent home without completing boot camp….and, I still had not learned my lesson. what logical thing did I do? I negotiated with God.
"so, if you can work it out that they cannot find what is wrong with me, but they know that something is wrong with me, I can graduate with my unit, and they discharge me honorably, I'll leave the Navy."
As I read what I just wrote, I just cannot imagine how arrogant I was to negotiate with God! And this wasn't like Abraham negotiating with God about how many it would take to save Sodom and Gomorrah. I am so thankful that God is a merciful God. Those folks in the infirmary don't know how close they came to having God strike me dead, like any normal parent would have!
Within a few days, the anti-inflammatories took down the swelling, and I was able to walk again, though I was on pain meds. I had to do PT twice a day – running in the morning, then PT exercises in the evening, or PT with the unit, and running in the evening. I was scoring fine on everything, and I graduated with my unit.
Next stop was NTC San Diego – for Radioman school. I felt fine, I enjoyed my time as a sailor…going to bars, drinking, and having a great time. I aced my A school, and even caught the eye of my Chief Petty Officer. I was given a scholar promotion…and chosen to be the first female radio shack operator on an actual IN SERVICE ship(rather than on land or a supply ship). I had forgotten all about my deal with God, and honestly, I thought he had, too. Then My leg started hurting again. I went to sick call. again and again.
They did multiple tests – one, the dyd couldn't show the discs because of the wideness of the space between my cord and bones. The other, they couldn't complete the test because I had an anaphylactic reaction to the dye, and they had to pump me full of ephedrine to bring me back…the dye had not reached the area they were aiming to view.
Xrays were non conclusive.
The nuero surgeon KNEW something was wrong, and wanted to open up my back so he could see.
But, GOD.…
While I was spending months in Balboa naval hospital because of my leg and lower back, and one month in convalescent leave (where a chiropractor was able to xray my low back while standing, and found five discs bulging…and provide traction that enabled me to ambulate with crutches), there were other things going on of which I was unaware.
I said no to exploratory surgery…so, I was sent to the psych ward.
They harassed me until I said, FINE – GET ME OUT OF THE NAVY!
I was given a honorable discharge – stating that I was never to be reconsidered for enlistment. And, I was discharged at 11 months…which meant no education benefits. My medical papers disappeared for 30 years(the typical pattern was that the person carried their med papers back to their station, and took them home with them…but, I was told that they had to finish the papers).
I was dumber, or slower than Jonah….I didn't go home. I stayed in San Diego, living with two other sailors, taking in laundry, and being a beach bum. I knew God had kept his end of the bargain. I was out of the Navy. And yet…I was not sure of my end of the bargain!
I'll write about that next week.
Jonah prayed!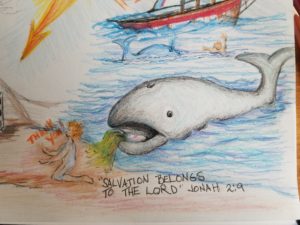 One commentary says that Jonah died and was raised from the dead…I don't know that I quite agree with that…but I'm sure he was close to death…or was wishing for death!
7 When my soul fainted within me I remembered the Lord: and my prayer came in unto thee, into thine holy temple.
8 They that observe lying vanities forsake their own mercy.
9 But I will sacrifice unto thee with the voice of thanksgiving; I will pay that that I have vowed. Salvation is of the Lord.
When My soul fainted within me…oh how I know that feeling!
Often, I know that feeling.
And still – I am only delivered by remembering the Lord!
The Amplified doesn't add much –
7
"When my soul was fainting within me,
I remembered the Lord,
And my prayer came to You,
Into Your holy temple.
8
"Those who regard and follow worthless idols
Turn away from their [living source of] mercy and lovingkindness.
9
"But [as for me], I will sacrifice to You
With the voice of thanksgiving;
I shall pay that which I have vowed.
Salvation is from the Lord!"
What it does do, is explain part of verse 8 – following worthless idols.
The worthless idol I was following was myself – thinking I knew better than God.
The worthless idol that Jonah was following was thinking he was able to get away from God…Kind of putting himself in a position of more power than God.
God said Go – Jonah said NO.
God said Go – Christi said No.
If I say that God is my God, and I say no to him…is he really my God?
Who I my God?
If I think that I have the right to contradict the God of creation…oh wait…someone did that….SATAN!
Satan decided that he wanted to call the shots…which meant, he wanted to be Like God…equal to God…above God?
Got Questions has a great set of articles on the fall of Satan.
The scary thing to me is that I was acting just like Satan!
Back to Jonah!
Jonah 2:9 AMP
But I with the voice of thanksgiving
will sacrifice to you;
what I have vowed I will pay.
Salvation belongs to the Lord!"
A voice of thanksgiving…in the midst of trials! Great point! and, it can sometimes be a sacrifice!
Steps of turning….
1. Jonah recognized he was underthe wrath of God – and repents.
Romans 1:18 – 18 For the wrath of God is revealed from heaven against all ungodliness and unrighteousness of men, who by their unrighteousness suppress the truth.
2. He avoided the trap of ingratitude that God hates:
Romans 1:21 21 For although they knew God, they did not honor him as God or give thanks to him, but they became futile in their thinking, and their foolish hearts were darkened.
3. Jonah remembered what he'd vowed when he became a follower….with a voice of thanksgiving…I will sacrifice to you.
How could he sacrifice in the belly of a fish? This was him putting his heart on the altar…sacrificing his fear, or his control(as if he had any) – he was sacrificing himself.
Psalm 116:17 I will offer to you the sacrifice of thanksgiving and call on the name of the LORD.
4. and he agreed to do God's will – "what I have vowed, I will pay."
Psalm 116:18 I will pay my vows to the LORD in the presence of all his people,
5. and he declares SALVATION belongs to THE LORD! He recognized and declared his salvation is from God – NO ONE ELSE!
Romans 10:9-10 English Standard Version (ESV)
9 because, if you confess with your mouth that Jesus is Lord and believe in your heart that God raised him from the dead, you will be saved. 10 For with the heart one believes and is justified, and with the mouth one confesses and is saved.
And then God spoke…and the fish obeyed…and lo and behold, Jonah is vomited up right where he needs to be!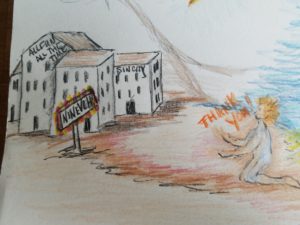 Here is where Jonah and My stories start to separate…but there are still similarities. I'll tell you more when I write about chapter 3.
The story so far, in my artwork: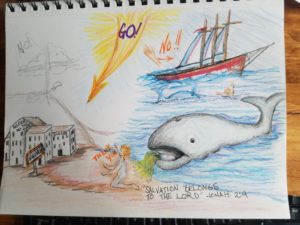 I hope you are enjoying my little artistic additions…I hope to scan it in at the end and have a decent copy!
So – foxhole prayers – have you prayed any?
Have you needed to repent for saying No to God, and turn around to go the other way?
Isn't that the perfect illustration of Salvation? We tell God no, until we come to the end of ourselves, and when we pray, he's right there, ready to save us!
Let me know what you have seen in Jonah 1 & 2 in the comments!
See you next week for Jonah 3!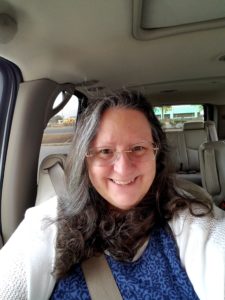 Thanks for joining me in this journey,
In His hands and under His wings,
~Christi
Ps 63:7 Because you are my help, I sing in the shadow of your wings.
"The Lord does not give me rules, but He makes His standard very clear.
If my relationship to Him is that of love, I will do what He says without hesitation.
If I hesitate, it is because I love someone I have placed in competition with Him, namely, myself." – from My Utmost for His highest
I want to thank
for the ability to search the Bible online.
Some artwork is from me – ChristArtist. It is copyrighted – by me. Please do not share it without my permission. The same goes for my written work.
Some artwork is from ChristArt – not me! I have purchased a membership, and the art is copyrighted by them.
Some artwork is from FreeClipArt Library. copyrights belong to them.
I'd love to stay in touch with you – we are working on email subscriptions…sign up!
Soon, we will have a gallery for the art I have created by the hand of God.
There are many organizations that support children and families. Here are ones that we are blessed to be a part of. Please consider sponsoring a child – the life you change could be your own.
Please follow and like us: