So this weekend all the Christian leaders at our church were sharing their words for the year.
Last year, I wrote a bit about my words…Number My Days. The tag words are my one word and One Little Word in the tag cloud on the right column of my blogs.
This year – I seem to have been given a gloomy one…THE TIME IS SHORT – or – THE END IS NEAR.
I feel like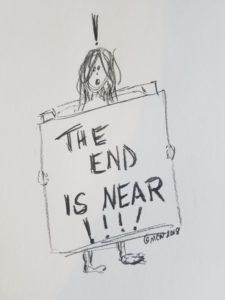 I've done street witnessing, beach witnessing, mall witnessing…life witnessing…but never placard or these sign type witnessing…and, I don't really agree with it…so, What on earth is God talking about?
But, there is a concept:
2 Timothy 3King James Version (KJV)
3 This know also, that in the last days perilous times shall come.
2 For men shall be lovers of their own selves, covetous, boasters, proud, blasphemers, disobedient to parents, unthankful, unholy,
3 Without natural affection, trucebreakers, false accusers, incontinent, fierce, despisers of those that are good,
4 Traitors, heady, highminded, lovers of pleasures more than lovers of God;
5 Having a form of godliness, but denying the power thereof: from such turn away.
6 For of this sort are they which creep into houses, and lead captive silly women laden with sins, led away with divers lusts,
7 Ever learning, and never able to come to the knowledge of the truth.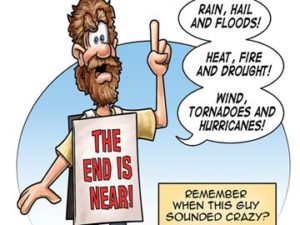 Now, to do a complete discussion on the end times, I'm going to leave it to this person…from Safe3 Harbor with his post on end times – the end is near..
My blog is about what this means to me.
When I turned 50 – I had a huge celebration…My golden Birthday party.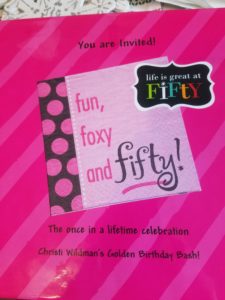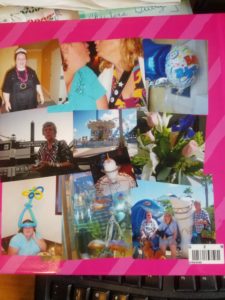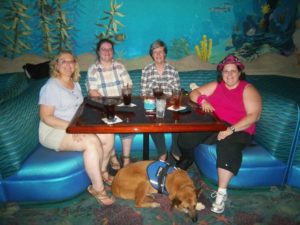 When I woke up one year later – at 51, I felt hit in the stomach.
one year past the halfway mark of 100.
What have I done with my life?
I started focusing on the Giants in My Land.
But what was really on my mind was the 50+1.
This year, I turned 50+7
When I was 16 – I was sure Jesus was going to return in 1980.
When I got married in 1980, my husband and I thought that we'd never see 1988… from the idea that 40 years was a generation…1948, Israel was declared a nation again.
When that didn't happen – we moved the date out from 1967 – the 6 days war when Jerusalem was retaken…plus 40 years…2007.
In 2007, we bought a house, met our first grandson…and the Lord Jesus did not return.
The world continued to go crazy.
And, we considered that there is biblical reason to consider a generation up to 100 years from the generational discussions in the old testament. that brings the date options from 1948 – and 1967…out to 2048 to 2067.
And there's the biblical statement that we are given 70+2 years….from 1948, that would be 2020.
Not too far from 2018.
When Jesus talked about it in Matthew 24:36, he said this:
"But about that day or hour no one knows, not even the angels in heaven, nor the Son, but only the Father.
over and over in Matthew 24 and 25, Jesus says WATCH THEREFORE!
It could be WATCH THEREFORE! I don't know….
So, do I think this is about Jesus coming in 2018?
NOPE!
What do I think this is about?
Last year was Psalm 92:12
12 So teach us to number our days, that we may apply our hearts unto wisdom.
I wrote about it…#mydays
2016 was prepare…and I wrote about my reflections looking back.
There are so many ways that "the end is near" could be taken.
Yes, my first thought went to the end of the world!
Entering into the Millenial Reign with Jesus – who wouldn't want that? Well, if you are a follower and a citizen of HIS Kingdom, anyway.
But, I have had a scripture verse that I have been leaning on for …well, since I fell in Navy boot camp in 1978 and went paralyzed:
Isaiah 40:31
But they that wait upon the LORD shall renew their strength; they shall mount up with wings as eagles; they shall run, and not be weary; and they shall walk, and not faint.
I've spent years misunderstanding what this promise is about, to me…and this year begins with failed SI join injection, more pain in my legs, hips, knees, back, and even the arms are now being affected.
Maybe this "the end is near" is an encouragement to keep believing…or, do I go sign up with the VA? Not the point of this blog…but, something that could be part of this "the time is short" "the end is near" phrase.
My husband is battling with cancer…prostate the last two years, that is no longer evidenced in his body, but symptoms with his lymph glands, indication Non Hodgkins Lymphoma. May the end is near and we find that he has no cancer!
The down side could be, like God said to Hezekiah…get your house in order…the end is near.
Maybe it's just that God is tired of waiting for me to write that book(those books) and bible studies that I keep bowing to fear about.
Maybe it's just that I need to focus on the MOST important things…not the distraction.
One thing I know…I'm going to be checking out this lady's blog…I was just looking at calendars and journals for 2018 last night! And she has this all set up!
Please check out My beautiful Ugly 2018 planner and love challenge blog.
I'm going to be focusing on the important things to focus upon:
Prayer
Praise
Promises (Bible READING)
Purpose (writing)
Priorities(those things that God brings to mind each day – family, self care, others, etc.)
That happens to be the first item on her calendar…write down five goals for this year.
I have promises that have been made, to God, to my husband, to my children…and then to others…that have not been fulfilled. The end is near.
I have health issues that are slowing me down, and I tend to give up and wait to get better. The time is short.
I have people that I want to focus prayer upon, and I have not organized myself to do such well. The end is near.
I have grandchildren to interact with – and it only takes a week for them to change tremendously. The Time is short.
I have children I have sponsored that could be written monthly, but, I put it off until it's been months. The end is near.
50+7
70+2
72-57 = 15
According to the Bible – unless there are other plans by God – I am given only 15 more years.
Truly, the time is short.
This song is running through my head:
Here's the Lyrics to Phil Keagy's Rejoice
This was current while my husband and I were Jesus Freaks in the 70's….
And the movies…
A Thief in the Night
A Distant Thunder
Image of the Beast
The Apostle Paul preached that the end was near….
And, if it was near for him…it is much nearer for us.
I do believe that Jesus will return.
I believe it will be in my lifetime.
And because of that…the work of the Kingdom is urgent, more urgent today, than in 2010. 1980, 1948, or 40AD.
I don't know how to put my focus into a word…other than JESUS.
TIME?
URGENCY?
I don't know…I just know that I am to be a workman in the kingdom…and no matter what 'the end is near' or 'the time is short' means, specifically – it means GET TO WORK for me.
Hmmmm, not very catchy…but maybe that is it!
Colossians 3:23-24
23 Whatever you do, work heartily, as for the Lord and not for men, 24 knowing that from the Lord you will receive the inheritance as your reward. You are serving the Lord Christ.
The (In)Courage blog and facebook posts have kept me focused in the last parts of 2017 – and finished out my 2017 with a verse that helped me to focus….
Ezekiel 36:25-27English Standard Version (ESV)
25 I will sprinkle clean water on you, and you shall be clean from all your uncleannesses, and from all your idols I will cleanse you. 26 And I will give you a new heart, and a new spirit I will put within you. And I will remove the heart of stone from your flesh and give you a heart of flesh. 27 And I will put my Spirit within you, and cause you to walk in my statutes and be careful to obey my rules.[a]
So, no matter how God explains my focus for this year…I have found some women to help me to focus.
I have a Bible that will lead and guide me.
I have a Holy Spirit that resides inside me.
I have the blood of Jesus that cleanses me.
I have the creator Father that listens to me.
I have a husband and family that love me.
I have a church that will feed me.
For 2018, I have all I need!
I know the end of the story….
Revelation 21:5English Standard Version (ESV)
5 And he who was seated on the throne said, "Behold, I am making all things new." Also he said, "Write this down, for these words are trustworthy and true."
But – today is the beginning of the rest of my life…This is the Day that the Lord has made – I will rejoice and be glad in it!
I've featured this image, from BibleQuotes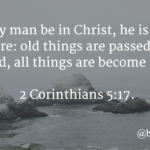 Thanks for joining me in this journey,
In His hands and under His wings,
~Christi
Ps 63:7 Because you are my help, I sing in the shadow of your wings.
"The Lord does not give me rules, but He makes His standard very clear.
If my relationship to Him is that of love, I will do what He says without hesitation.
If I hesitate, it is because I love someone I have placed in competition with Him, namely, myself." – from My Utmost for His highest
I want to thank
for the ability to search the Bible online.
Some artwork is from me – ChristArtist. It is copyrighted – by me. Please do not share it without my permission.
The same goes for my written work.
Some artwork is from ChristArt – not me! I have purchased a membership, and the art is copyrighted by them.
I'd love to hear what you think – please leave a comment! Or choose to LIKE me on facebook, follow me on Pinterest, or other social media!
I'd love to stay in touch with you – we are working on email subscriptions…sign up!
Soon, we will have a gallery for the art I have created by the hand of God.
There are many organizations that support children and families. Here is one that we are blessed to be a part of. Please consider sponsoring a child – the life you change could be your own.
Please follow and like us: