I started this year with wondering what my word 2018 would be.
I was impressed with "the time is short" and "the end is near".
My question to Jesus was "for what?"
His answer was "to be like me".
My first thought was – does that mean my word for this year is "JESUS?"
Can't be…that's so WWJD, and cliche'.
I couldn't pick a WORD last year, either…basically, I got a verse!
This year, I keep getting VERSES…and the word Jesus just keeps popping up!
And I kept refusing it (ok, today is only Jan 3, and I started this after Christmas, so I haven't been sinning quite that long…it just feels like it!)
Then, yesterday, dear Ann Voscamp wrote her word for the year. Jesus.
Great – now it's going to look like my obedience is actually imitating Ann Voscamp!
I can see it now…all those bracelets with the name JESUS on them…everyone wearing them….
GET THEE BEHIND ME SATAN!
HOW GREAT WOULD 2018 BE IF EVERYONE FOCUSED UPON BEING LIKE JESUS???
Ok, attitude checked.
Repentance requested, Forgiveness received.
Moving forward!
My focus this year – is BE LIKE JESUS.
And, yes, my memory word will be…..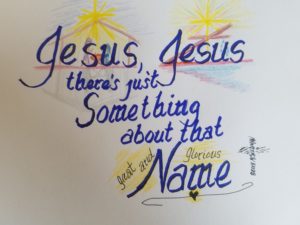 And, today, I'm working on my priorities to be like Jesus…#5.
Praise
Prayer
Promises (Bible READING – PRAISE FOR THE PROMISES)
Purpose (writing)
Priorities(those things that God brings to mind each day – family, self care, others, etc.)
Priorities – THOSE THINGS THAT GOD BRINGS TO MIND EACH DAY
Last night, God brought to mind that my husband said something very sweet to me:
Your hair is aging very lovely
I have had years of getting strange types of comments from my husband.
He has a different way of expressing himself than most.
Because of that, I've not accepted many of the compliments he gives me.
There is also the issue of horrible self worth, negative self talk, and all those self-condemning voices in my head that out number and out yell him!
This time…THIS TIME…I heard Jesus whisper…listen.
What is he saying?
He likes my long hair – even if I feel it's stringy
He likes my grey hair – even if I keep trying to convince myself they are tinsel!
He likes my hair, as it's aging, and he's not hankering for the day when my hair was young, fresh and …well, I've never been happy with my hair! He, on the other hand, has loved my hair from the start!
In fact, it was my hair that almost gave away that he intended to marry me!
Story time:
It was 1979. I'd been out of the Navy for a couple of months. Therefore, I could let my hair grow!
I went to dinner with my best friend, Jim – my bible buddy.
He looked across the diner table and said "are you letting your hair grow?"
"yes" I replied…we talked about anything and everything, so this was not strange.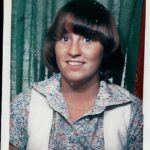 "Great, I always wanted a wife with long hair"
WAIT! WHAT???
My immediate reaction was "I'll never marry you, it would ruin our friendship!"
Little did I know how close that was to prophecy!
Understand, I was reacting out of the mouth of a child of divorce…I didn't know married couples could be friends!
Besides, he was the guy I asked about all the other guys that were proposing to me…"is this the one?" "No, I don't think he is the one"
Hmmm, all along, he had ulterior motives! And, one year later, give or take a month – we were married!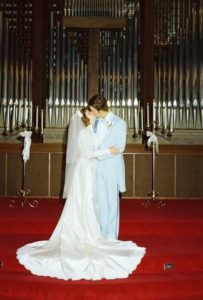 So, a comment about my hair goes all the way to the beginning.
GOD wanted me to HEAR Jim's heart! And I felt loved.
My love languages are quality time and words of affirmation.
His aren't. hahaha! Isn't that about the truth for most of everyone?
I need to hear HIS words, trying to speak to me in MY language.
Now, what does this have to do with what God led me to do today?
Remember my word for the year…yep – Jesus.
Colossians 3:23-24King James Version (KJV)
23 And whatsoever ye do, do it heartily, as to the Lord, and not unto men;
24 Knowing that of the Lord ye shall receive the reward of the inheritance: for ye serve the Lord Christ.
Ministering to MY husband.
Guess what HIS love languages are?
Acts of Service and Physical Touch…
These are troubling for me for several reasons.
I don't do the hold on until we melt into each other hugs…they are vulnerable.
I have physical issues that make hugging painful.
We used to live in a cold environment – and kissing too much caused chapped lips.
I have physical issues that cause me pain when I do cleaning, decorating, moving – acts of service.
Those who have followed this blog for any length of time, know that I am a broken mess!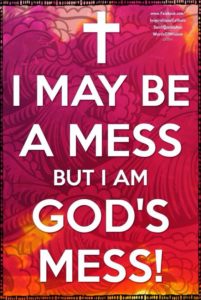 I want love, but I'm afraid of it.
I want trust, but I'm afraid to trust.
I want peace, but I'm afraid…period.
So, God told me to listen to the words my husband said – so that I could hear love.
And this morning, God pointed out something that blesses Jim.
He asked me to do it way back in the beginning.
Many life organizers list it as one of the first things to do in the day.
I did it every day in the Navy boot camp – on the top bunk(and I'm short).
WHAT IS IT?
MAKE THE BED!
Yes, something my mom was always telling me how to do.
So, I know the nurses way to make a bed(yes, with flat sheet corners)
I know the Navy way to make a bed (and, no, the quarter didn't have to bounce, but the top of the bottom sheet and the roll down of the top sheet both had to be 7 inches exactly. the distance between my thumb and my little finger spread out is almost exactly 7 inches).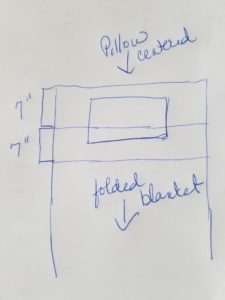 I know the OCD way – lines must be straight, each side must be exactly the same distance…
I'm learning the 'IT'S OK TO BE REAL' way…here's today's work: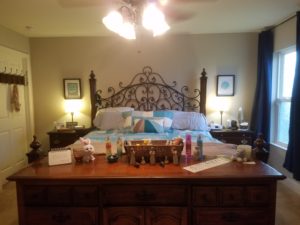 I lost one of the shams when I was matching colors for the house.
The pillows should not be showing…but I don't have the strength to pull the quilt up further.
I never intended to have that many sleeping pillows on the bed…and, interestingly enough, I have a similar colored bed at our daughters, with cute extra pillows that the dog loves to walk around with!
I even cleaned up the dresser before taking a photo…
and I can go on and on and on about how this is not up to my standards.
But it is…IT IS…up to my dear husband's standards!
THIS blesses him.
Actually, me just pulling it up and straightening a bit blesses him.
I get hung up on doing this as unto the Lord, therefore it needs to be perfect.
You know that verse?
Matthew 5:48King James Version (KJV)
48 Be ye therefore perfect, even as your Father which is in heaven is perfect.
or this one?
1 Peter 1:15-17King James Version (KJV)
15 But as he which hath called you is holy, so be ye holy in all manner of conversation;
16 Because it is written, Be ye holy; for I am holy.
I get so hung up on doing something perfect, or being holy about doing something…that I just don't.
a quote from my earthly father:
If I can't do it right, it's not worth doing.
I do know that neither my earthly nor heavenly father meant for me to just quit.
I do know that OCD, anxiety, and such are Giants in my Land that I need to slay.
I do know that pain prevents me from doing some of the bigger, more impressing things I used to do for my husband(moving whole rooms while he was gone..yeah, that's not happening anymore!).
What I needed to learn – from listening to God tell me to LISTEN to my husband's attempt to speak my language was that I don't have to be perfect in result…I just have to perfectly try.
Language – several years ago, I made a trip to Germany.
I created a cheat sheet of some words I thought I might need to say.
I listened to some of those language trainers to get a feel for the sound.
I was told that the nationals would be offended by me trying to speak their language without getting it right.
My experience? 100% of the time, I might get a smile, but I always got a very warm thank you, and an attempt to communicate – even if they knew no English.
I don't speak Jim's love languages.
Jim doesn't speak mine.
We are as different as black and white, cold and hot, wet and dry…etc.
We've been hung up on the other speaking our language.
I'VE been hung up on JIM speaking MY language – and my inability to DO things…or be touched, as a failure as a wife.
I'm not perfect.
Jim's not perfect.
Jesus IS perfect…and I don't believe he expects me to BE PERFECT – NOT AS HIM….BUT AS THE FATHER!
And yes, there are plenty of Bible studies about this…and the word meaning and such.
But, I'm simple…this is what the Bible says…and I know that one of Jesus's love languages is GRACE!!!
Jesus doesn't ask me to speak the language myself.
He will be my cheat sheet!
He's commanded me to Love!
John 13:34-35English Standard Version (ESV)
34 A new commandment I give to you, that you love one another: just as I have loved you, you also are to love one another. 35 By this all people will know that you are my disciples, if you have love for one another."
Because HE IS LOVE!
Therefore, if I let Jesus reign in me, work on being like Jesus – I will be able to speak Jesus's love languages of LOVE, GRACE, MERCY, FORGIVENESS, JOY, PEACE, PATIENCE, LONGSUFFERING….you get the point!
Because of JESUS in me – I can love.
1 John 4:19English Standard Version (ESV)
19 We love because he first loved us.
1 John 3:1
See what great love the Father has lavished on us, that we should be called children of God!
and of course:
John 3:16
For God so loved the world that he gave his one and only Son, that whoever believes in him shall not perish but have eternal life.
Romans 5:8English Standard Version (ESV)
8 but God shows his love for us in that while we were still sinners, Christ died for us.
Jesus asks me to Love my husband.
yes, there are others, too.
If Jesus can choose to come and die for me, while I am yet a sinner, because HE LOVED ME…THE FATHER LOVED ME, THE HOLY SPIRIT even chose to MOVE ME BY GRACE…then to be like Jesus – surely I can love one that is not as ugly to me as my sin was to MY FATHER.
AND surely I can extend grace to my human husband(I have no other), as he attempts to speak love to me.
I made our bed today.
Jim – I love you, and Jesus Loves You! Thank you for loving me, too!
Thanks for joining me in this journey,
In His hands and under His wings,
~Christi
Ps 63:7 Because you are my help, I sing in the shadow of your wings.
"The Lord does not give me rules, but He makes His standard very clear.
If my relationship to Him is that of love, I will do what He says without hesitation.
If I hesitate, it is because I love someone I have placed in competition with Him, namely, myself." – from My Utmost for His highest
I want to thank
for the ability to search the Bible online.
Some artwork is from me – ChristArtist. It is copyrighted – by me. Please do not share it without my permission.
The same goes for my written work.
Some artwork is from ChristArt – not me! I have purchased a membership, and the art is copyrighted by them.
I'd love to hear what you think – please leave a comment! Or choose to LIKE me on facebook, follow me on Pinterest, or other social media!
I'd love to stay in touch with you – we are working on email subscriptions…sign up!
Soon, we will have a gallery for the art I have created by the hand of God.
There are many organizations that support children and families. Here is one that we are blessed to be a part of. Please consider sponsoring a child – the life you change could be your own.
Please follow and like us: